New Rules:
• RULEZ •
Armory Cards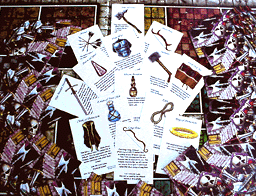 Here they are! The Armory Cards replace the US Armory Sheet, UK Equipment Cards and the Alchemy Shops found in the HeroQuest expansions. The Armory Cards Set contains 70 cards and new rules for the use of the Armory Cards. The cards include items from both the US and UK HeroQuest games plus 11 all new items for the Heroes to purchase! The cards include artwork by Ron Shirtz, original artwork by Michael Kelly, which includes color versions of the potion bottles from the HeroQuest expansion Quest books, and the artwork used on the US Armory Sheet. Included are instructions for availability and suggestions for use with Brad (Cyber 333) Boruch's "HeroQuest City"!
I have split the Armory Cards PDF file into three separate PDF Booklets to resolve problems that had occurred with the download/upload of the file in the past.
Armory Cards Download 1 of 3 (Introduction, instructions and acknowledgments - 156Kb)
Armory Cards Download 2 of 3 (The card faces - 3017Kb)
Armory Cards Download 3 of 3 (The card backs - 1151Kb)
This is a rule system for locks and lock picking in HeroQuest. I originally conceived this system years ago for a game set called Melee and Wizard (anyone remember those from MicroGames/Steve Jackson?). I have redone them for use in HeroQuest. Like Melee and Wizard before it HeroQuest was missing my favorite character class the Thief! What fun is it if you can't break in to something while adventuring?
QuestMaker Color is a Quest design utility for use with HeroQuest and other map/tile RPGs. QuestMaker Color uses Microsoft Excel. So Excel, or perhaps another spreadsheet program, is required to use it. I created QuestMaker Color after an idea by Ray Bordier, his original QuestMaker is available for download on Dewayne Agin's HeroQuest website. The new QuestMaker Color expands on Ray Bordier's original concept by adding full color tiles from all of the official HeroQuest Quests. The Hero (17) and Monster (99) icons have been reconstructed in 2 color shades, a single shade of maroon for the Heroes and a single shade of green for the Monsters. The Excel spreadsheet's grid has been resized to simulate graph paper (as close as possible to square in Excel, row height is 19 and column width is 2.33). All of the tiles have been meticulously resized to line up with in these measurements allowing a full color image of your HeroQuest dungeon to be shown/printed. All of the tiles/icons have been inserted into the Excel workbooks in such a way as to allow Morcar/Zargon to position and/or rotate each of the tiles at will. So if you want to design a dungeon where some rooms are at a 45 degree angle ... Go for it! Hope you enjoy this!
Content of QuestMaker Color 2.0 (1.2Mb):
• QuestMaker Maps.xls
• HeroQuest Map - designed to resemble the US Questbook
• Tile Only Map - a completely blank sheet of graph paper
• HeroQuest Base Icons.xls
• Furniture Icon Set
• Bestiary Icon Set
• Basic Room Tile Icon Set (See Tilez Page for the full size tile downloads)
• Halls and Passages Tile Icon Set (See Tilez Page for the full size tile downloads)
• Traps Icon Set
• HeroQuest Expansion Icons.xls
• Against the Ogre Horde Tile Icons Set
• Kellar's Keep Tile Icons Set
• Marvel Winter Special Tile Icons Set
• Quest for the Barbarian Tile Icons Set
• Quest for the Elf Tile Icons Set
• Return of the Witch Lord Tile Icons Set
• Wizards of Morcar Tile Icons Set
• QuestMaker Color 2.0.pdf - Tips and Tricks
For those that would like the correct fonts for your new Quest Maps you will need to acquire following fonts:
• Belwe
• Bodoni
• Casablanca Anitque
• Caxton
• Gaze
• Primitive
• Zapf Chancery
Downloads may require one or more of the following to use:

Adobe Acrobat Reader: For both Windows and Macintosh

Image Editor: You can find and download free simple Image Editors for most OS's at C/Net's Download.com
StuffIt Expander: For both Windows and Macintosh
WinZip: For Windows
ZipIt: For Macintosh