Kellar's Keep
(THE ADVENTURE CONTINUES)
(UK/AUST/NZ VERSION)
The Emperor is besieged in Karak Varn.
Only by navigating long lost passages can be and his knights be saved.
This heavy task falls on you.
My trusted Champions.
(US/CANADIAN VERSION)
The Emperor is trapped in Kellar's keep, an underground vault deep within an ancient fortress.
Heroes-you must navigate long-lost passages to reach the emperor, before Zargon and is evil forces do!
The story line
"Trapped deep beneath the fortress Karak Varn, the Emperor and his knights prepare for a
hopeless battle. Zargon and his Doomguard approach! It is up to you, brave Heroes, to rescue
the Emperor and his knights.

You must find the secret passage that has been lost for a thousand years-a passage spoken of
in legend alone. It cuts through the very bowels of the World's edge Mountains and leads to
the vaults of Kellar's Keep.

Along the way, you will journey through ancient tunnels now inhabited by Orcs, Goblins and
other creatures of darkness. Grave danger awaits you.

Mentor will guide you as far as the Great Gate. From there, you are on your own
Kellar's Keep contents
Quest Book with 10 new quests (US version has 10 small artifacts cards printed on the back cover)
1 Quest Book with 10 New Quests
Quest 1: The Great Gate
Quest 2: The Warrior Halls
Quest 3: The Spiral Passage
Quest 4: The Dwarven Forge
Quest 5: Hall of the Dwarven Kings
Quest 6: The Great Citadel
Quest 7: The Eastern Passage
Quest 8: Belornís Mine
Quest 9: The East gate
Quest 10: Grinís Crag
Alchemistís Shop (inside the front cover of the Quest Book)
4 Potions (available for purchase by the Heroes)
1 Potion of Battle
1 Potion of Dexterity
1 Potion of Restoration
1 Venom Antidote
8 Orcs

6 Goblins

3 Fimir

1 Two-sided Iron Door (without base)

1 Two-sided Wooden Door (without base)

4 Short Stairway Tiles

2 Long Stairway Tiles

1 Cliff Corridor Tile

1 Giant Stone Boulder Tile

2 Trap Door Tiles

2 Pit Trap Tiles

12 Blocked Square Tiles

1 Weapons Forge Tile

1 Cloud of Chaos Tile

1 Stone Map Tile (4 separate parts)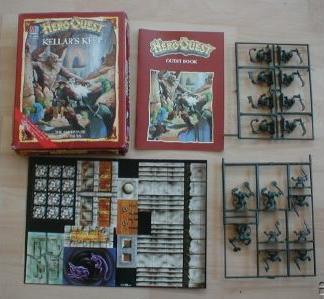 (THE DIFFERENT VERSIONS)
Kellar's Keep was released in many countries and languages. Australia, New Zealand, America. Canada. England/UK. Germany. France. Holland. Italy. Sweden. Spain. Belgium + + + + +
The American/Canadian version is slightly different to the rest.
Here are some of the differences
1/ The US/Canadian box
A) Is larger to accommodate larger quest book.
B) Has a different color.
C) Box opens from top (note the Australian/New Zealand box is also 2 piece) UK/Europe version opens at ends
and is made of thinner cardboard.
D) The story line is Different See Above
2/ The US/Canadian Quest Book
A) Is longer and not as wide.
B) It has a cardboard front and back cover
C) It has 10 small Artifact cards printed on the back cover.
D) The book is printed in color.
3/ The Quests
The quests are the same storyline But include artifact cards and of course the monsters have more than one body point. Some monsters have special powers and can use CHAOS SPELL CARDS. Not supplied with Aust/Eng/European versions of the basic game. These Chaos spell cards or not supplied with this quest pack but where part of the US/Canadian basic game (Game System).
English/Australian Kellar's Keep

MB Serial no 4232

Year 1989

American/Canadian Kellar's Keep

MB Serial no 4111

Year 1989 1991
THE ARTIFACT CARDS US/Canadian Version Only

10 New Artifact Cards (inside the back cover of the Quest Book)

1 Fire Ring

1 Magical Throwing Dagger

1 Spell Scroll: Ball of Flame

1 Spell Scroll: Courage

1 Spell Scroll: Fire of Wrath

1 Spell Scroll: Genie

1 Spell Scroll: Heal Body

1 Spell Scroll: Rock Skin

1 Spell Scroll: Sleep

1 Spell Scroll: Tempest